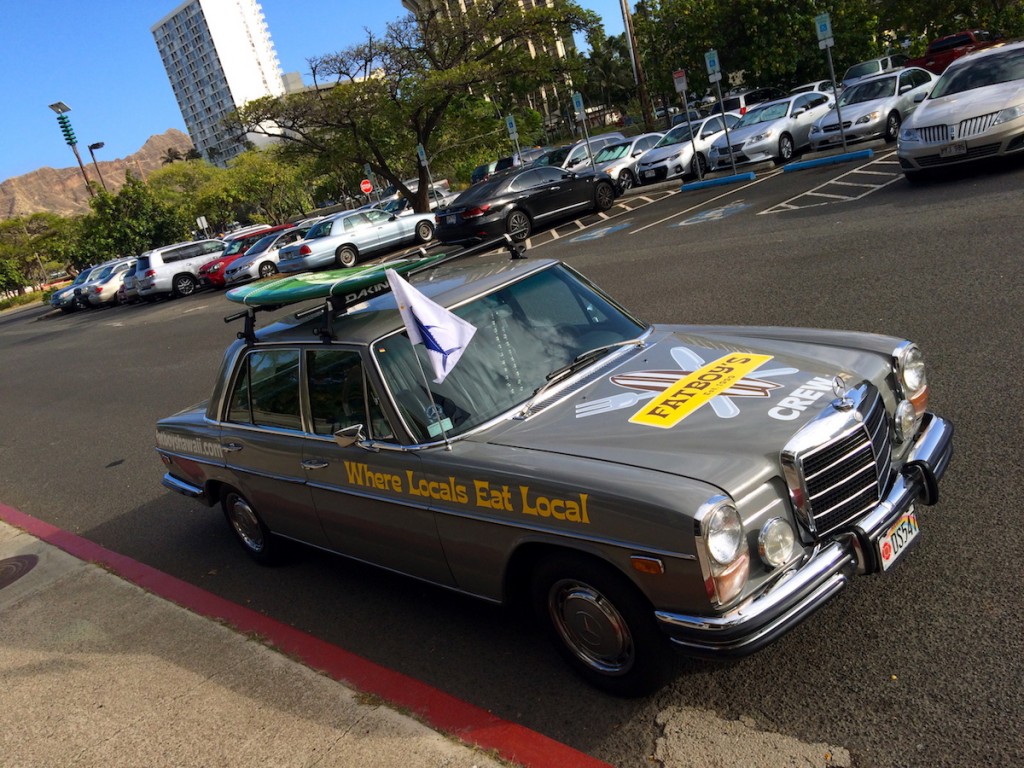 Beginning May 2016, be on the lookout for the Fatboy's Boyrger Benz! It will be showing up at a Fatboy's location near you, letting everyone know that Fatboy's Haleiwa is getting ready to open.
This all new Fatboy's – right in the center of historic old Haleiwa Town – will feature all your Plate-Lunch favorites, like Garlic Chicken and Teriyaki Beef. Plus some fresh new takes on Hawaiian Style cooking with Fatboy's exclusive Ali'i Fried Rice and Hawaiian Surf & Turf. And there's plenny inside and outside seating for everyone!
Fatboy's Hawaiian Style Plate-Lunch welcomes you and your Ohana to come up country and check out our newest location in the Heart of the North Shore – Haleiwa Store Lots. Open Monday to Friday 10am to 8pm, and 8am to 8pm on Saturdays and Sundays
66-111 Kamehameha Highway, Building 7, Suite 701, Haleiwa, HI 96712
Choke plate lunches always available at all our Fatboy's Hawaiian Style Plate-Lunch Locations!
Fatboy's Kailua
301 A Hahani Street, Kailua, HI 96734 (P) 808-263-2697
Fatboy's Waipio
94-1221 Ka Uku Boulevard, Waipahu, HI 96797 (P) 808-680-7520
Fatboy's Koko Marina
7192 Kalanianaole Highway, Honolulu HI 96825 (P) 808-394-2373
And don't forget our Golf Course Bistro featuring LIVE LOCAL MUSIC!
Fatboy's Fairway Bistro Ala Wai Golf Course
404 Kapahulu Avenue, Honolulu, HI 96815 (P) 200-7140 (F) 200-7142